What is your heart yearning for?
Are you willing to slow down, take a breath and listen?
Begin to notice your thoughts, beliefs, patterns and feelings as you go about your day.Can you bring compassionate curiousity to them? This simple invitation can bring new awareness, understanding and clarity.
When you can begin to observe and explore your heart's desire and why you do what you do, then you can look at what needs are getting met by a particuliar strategy and what needs are not getting met. This simple awareness can highlight patterns and beliefs that may not be supporting you. As you investigate further, you may discover patterns and beliefs you want to transform. With compassionate presence, effective tools and support, you can create the change you are looking for.
When you continue to live from your familiar painful stories, limiting beliefs, cultural conditioning and fear, this often leads to a lot of suffering. My session work supports you to deeply listening to your inner truth and wisdom and clears the old energetic imprints that keep you stuck in the past. I am in service to supporting you to BE the best version of YOU.
Would you take the next step forward, if you were held in compassionate presence by a skilled facilitator? 
My classes, retreats and coaching services offer tools to access your heart's deepest wisdom
Reclaim your inner authority

Speak your radical truth with care

Create new pathways for connection

Listen and engage with heart centered presence

Step more fully into your truest whole hearted self   
Kayse Williams ~ Compassionate catalyst for empowered freedom and joy  
Kayse is an empathic coach and a clairvoyant shamanic guide. Her work is centered in compassionate presence. She has devoted her life to listening to her heart and soul's calling.
Her intuitive sense and inner vision began developing when she was fifteen years old. These clairvoyant gifts have inspired her to devote her life to following her spiritual path, trusting her inner guidance, and diving deeply into her inner work. Along this path, she has cultivated unique gifts that catalyze powerful experiences of transformation, healing and Presence for fellow seekers.
Kayse is devoted to helping you discover and become your truest self. With impeccable energy tracking abilities and a wide set of tools, she is able to see straight to the core of your challenge. Her heartfelt presence, compassion, depth of experience and unwavering integrity will help you to feel cared for and encouraged. She will support your courage to delve deeply if you are willing to take responsibility for co-creating your life.  
Some of Kayse's qualifications include:
Shamanic Full Mesa Carrier with The Four Winds Peruvian Indigenous Teachings

Certified Trainer Candidate in Nonviolent Communication (NVC)

Graduate of the Empathic Livelihood Program with Francois Beausoleil

Graduate of the year-long BayNVC Leadership Program

Certified Quantum Biofeedback Specialist (Indigo)

Clairvoyant Intuitive since childhood
Buddha says, transcending suffering is about being in presence.
Our Essential Oil Blends have been honored in Wall Street Journal, San Francisco Examiner,
Spa Magazine, Food, Wine and Travel, and USA Today.
""My seventeen year old grandson died suddenly. In addition to my own grief, sadness and shock, I was traumatized as my son called me crying daily. This deepened my depression. The oils helped me survive these daily conversations.They also helped with my husband's death after 48 years of marriage and the deaths of my mother and father, best friend and brother. They helped me get through a lot of death in these last seven years. They are easy to use and can be carried in your purse. They are very helpful with life's challenges. Thank you."
K. Mcknight ~ Mulberry, AR
________________________________________________________________________________________
"I've personally used the Sacred Alchemy Clearing Series essential oil blends in my work with caregivers and other concerned loved ones. In every case, I've witnessed them receive profound insight, clarity and comfort during stress, loss and grief… often within moments of inhaling from the bottles. Kayse's essential oil blends are beyond amazing!"
Sharon Burch MSN, RN
The Caregiver's Compass
Coach for Caregivers Who Are Ready to
Change the Way They Relate to Their Challenges
---
Clearing Spritzer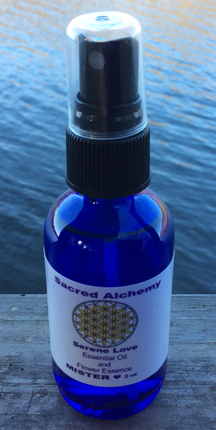 Our new Clearing Spritzer

Serene Love
If you love our Clearing Series, you will love our NEW Clearing Spritzer!
It contains many of the Clearing Series specially designed blends to assist you with emotional clearing. It is an alchemy of the Clearing Series and Star Flower Essences. Great for transforming and uplifting heavy energies. Spray your body and your space to feel more peaceful, calm and relaxed. Use in your work space between clients and meetings.
You matter. Share love. Have fun. Inspire. Be grateful.Trust. Shine.
Take risks. Step out of the box. Laugh more. Practice random kindness.
Cultivate curiosity. Feel. Be real. Be self responsible. Share joy. Be You!
I invite you to step out of your comfort zone and open the door into the
Divine Radiance of who you truly are.